VE6BLD
Welcome to the CAARC web site. I have been a Ham since 1978 and I am active on most modes from HF to UHF Satellite communications.
Posts by VE6BLD
CAARC 50th Anniversary Annual Picnic and Hamfest 2022
The 50th Anniversary Annual Red Deer Amateur Radio Picnic and Hamfest

will be held on June 17, 18, and 19 , 2022.
Radioworld Central has announced they will be attending the Picnic.
Be sure to come and have a QSO with their representative.
Click the blue Radioworld Central above to go to their site
The picnic and hamfest is sponsored by the
Central Alberta Amateur Radio Club
Location: Shady Nook Hall
Directions from Red Deer:
Go west on highway # 11 Turn south on RR 283. Take RR 283 south to Township Road 380 and turn right (west) to the hall just past the feed lot. 52*13.904′ N -113* 56.823′ W
Click the blue more options on this map for a Google Maps view to get driving directions from your QTH>
Please click the following link to download a word document to present to businesses for possible door prizes for the picnic.
donor_letter_2022 in word format
click to download the picnic-poster-2022
Raffle tickets for the following draws.
First prize $500.00
Second prize $200.00
Get your raffle tickets from CAARC members for just $5.00 a ticket, tickets also available at the picnic site.
Planning on attending the CAARC Picnic in beautiful Central Alberta?
At the picnic there are plans for family activities, ladies crafts, childrens games and other entertaining ideas. Red Deer and area has many other interesting things to do for visitors. Red Deer has a beautiful walking or biking trail system and natural areas. There is lots of shopping and restaurants, we even have a craft beer tour! Many hotels, motels and campgrounds are available. Check out nearby Sylvan Lake, historic downtown Lacombe or even book a trip on a steam train in Stettler. Please go to www.visitreddeer.com or Travel Alberta https://www.travelalberta.com/ca/ for more info!
CAARC Picnic Tentative Schedule & Prices
June 17, 18 and 19, 2022
Please Note: We are unable to accept any credit or debit cards. Please use cash or cheques
Friday June 17
14:00 – 22:00 Registration and Special Events Station
19:00 – 22:00 Hospitality Hour – campfire, smokies and s'mores.
Saturday June 18
08:00 – 17:00 Registration and Operating SPECIAL EVENTS HF Station VE6QE
10:00 – 12:00 Ladies Coffee and Crafts
10:00 – Fox Hunt
10:30 – 12:00 Tail gate flea market, Vendor tables
11:30 – 12:00
12:00 – 13:00 Lunch SARA dogs
13:00 – 14:00 SARA meeting
15:00 – Fox Hunt
14:00 – 15:00 ARES Meeting
16:30 – 18:00 Main hall closed for pot luck supper preparations.
18:00 – 20:00 Main hall pot luck Supper with BARON OF BEEF ROAST provided by the club
– Please bring your own dishes and cutlery, as well as pot luck dish: eg. – salad, side dish or dessert
20:00 – bedtime! Bonfire (Weather and fire restrictions permitting)
Sunday June 19
8:00 – 9:30 Pancake Breakfast. Please bring your own dishes. (Cost – donation at the door)
10:00 -11:00 Kids Games and Egg Toss
11:00 – 12:00 Liars Contest, Raffle and Draw Prizes
Weekend Family pass – $40.00 – Single $25.00
Day Family pass – $20.00 – Single $10.00
Optional – Raffle tickets – $5.00
Wishing everyone a Happy New Year
Bob VE6BLD and Sarina VE6QEN
THIS HAM RADIO IS UNSAFE AT ANY FREQUENCY
From Electronics Illustrated March 1968..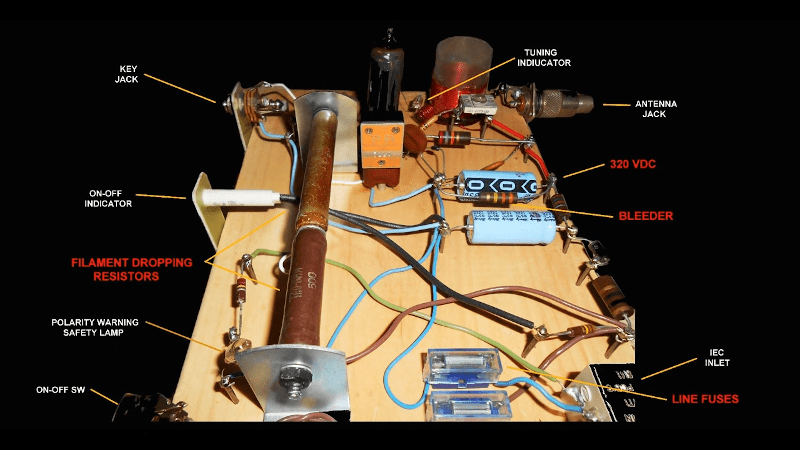 Paul Mower, VA6MPM, treks across the Canadian Rockies.
Club memberships are due in November. Please submit your dues as shown below.
Club memberships are $25.00 each or $30.00 for a family and are due now. You must be a paid-up member to be eligible to vote at the Annual General meeting in November. Cheques may be mailed to Central Alberta Amateur Radio Club, Box 1103, Red Deer, AB, T4N 6S5. If you prefer, Garry VE6CIA has also agreed to accept e-transfers for club memberships at ve6cia at gmail dot com. This is what we did for the club raffle earlier this year.
Club insurance is due. Please also confirm your RAC membership by email ( ve6cia at gmail dot com ) so we can get the best rate for the club.
can also download the CAARC membership and renewal form under the "Site tools" tab and send your dues by snail mail to the listed address on the bottom of the form or bring it to the meeting.

Your support helps keep your repeaters operating and your club active.
Thank you from your executive
73 CAARC Executive
On Monday September 6th, 2021, Louis (Lou) William Maga, loving husband, devoted father, passed away at age 83.
Louie was a very important member of the Central Alberta Amateur Radio Club (CARL originally) for many years. I remember helping him install his tower on the west side of the house and he always had a big smile and wonderful laugh. He was always helping with all club activities for many years. I was so glad I had an hour visit with him on his porch just a few weeks ago when I bought some new RV batteries. I know he will be sadly missed.
Hi Everyone,
At the last club meeting way back in May, it was suggested that we have a late summer get together. Saturday, August 28 seems to work for many people and John VE6HPY has offered to host it at his place.
We are planning a low key event from 6 – 8 pm. Please bring your lawn chairs, a beverage of your choice and whatever snacks you may wish to bring. We are planning a fire and John does have extra weenie sticks. Because of Covid, the club executive felt it was best to keep things simple for this get together. In the event of rain we could go into one of John's sheds. Please RSVP to either myself or to John to give us an idea of numbers.
John's cell is 403 304 3963 and his address is 39126 RR 280, HWY 11A, Red Deer County. From Red Deer, go west on Hwy 11A and turn right at RR280, go north until you see a long lane lined with trees on the west side.
This will give us all a chance to have a visit and enjoy an evening together. Hope to see you there!

Sandy Jacobs,
VE6SND
CAARC Club President
Thanks to everyone who submitted these pictures. Be sure to check all four pages at the bottom of the first page for all the pictures.
These are the field day results as submitted to ARRL (Thanks VA6SGL ) Great job everyone!
VE6QE_FD_Report

Thank you to all the hams for your help and participation in field day. The bands were wide open and operating conditions from the new site were excellent. We made just over 200 contacts. Everyone worked together to make field day a success. I will be adding a gallery of photos as soon as I receive them. If you have any photos please send them to me. We will be posting the total score submitted soon. Thanks again.
73 Bob VE6BLD